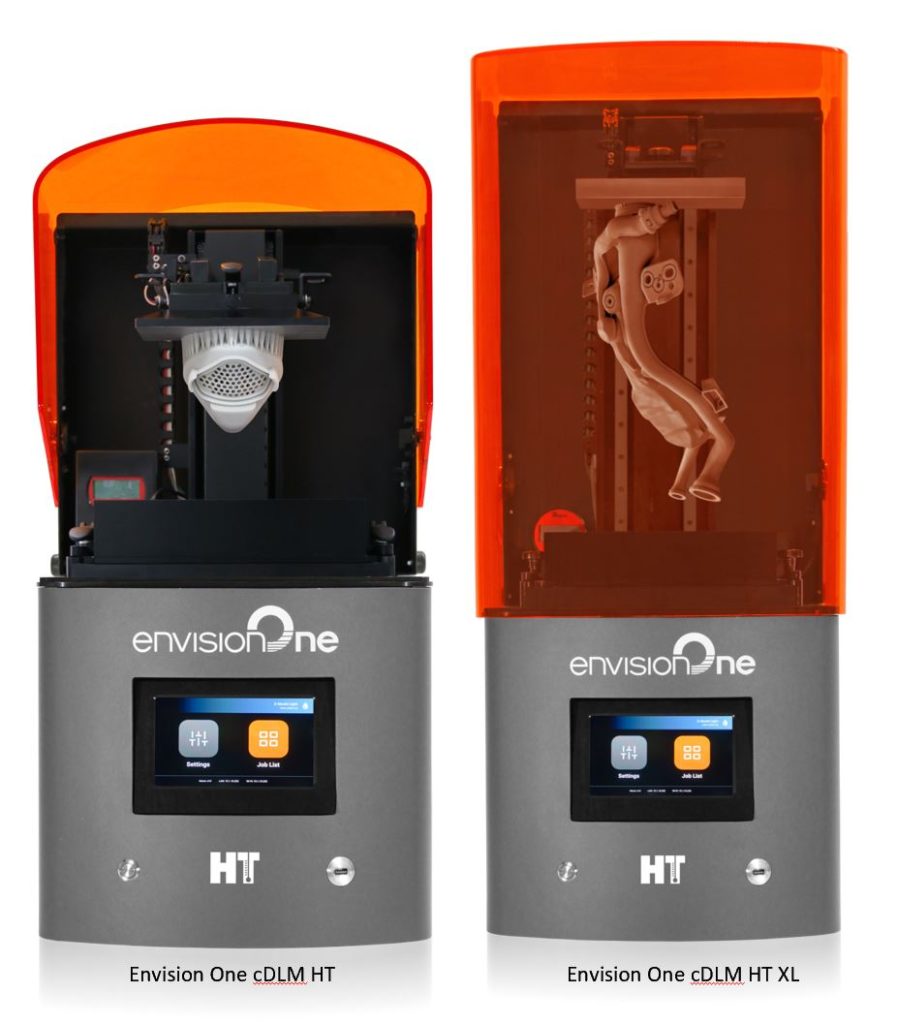 Designed to take you from beginner to expert in a single machine, the Envision One cDLM is the only professional 3D printer you'll ever need. EnvisionTEC delivers an end-to-end solution including design software parameter optimization to deliver accurate parts every time with minimal supports.
Build envelope :                                       180 x 101 x 175 mm        (180 x 101 x 330 mm for XL version)
XY Native resolution :

                                          93 µm 

XY resolution with contour gray scaling:         60

 µm

Build speed :                                            up to 45mm/hour    
Dynamic Z Resolution :                                      50- 150 µm     
Zero separation forces
Layerless technology delivers super smooth models
Domeless technology delivers the highest accuracy in Z
Also available with Chamber Temperature Control (CTC) for faster processing of resins perfect for medical use
75% less supports compared to regular DLP printers
High-resolution industrial projector with UV glass
LED light source at 385nm wavelength for higher accuracy
Continuous monitoring of build data during production
Available in High Temperature version  with : 
Infared heating system for the resin in the material tray
Three separate heat zones controlled up to 175°F per material by software
Heated build platform
Heated build chamber
Heated material tray
Closed-loop temperature controller
Able to print amazing new chemistries not
previously possible
ABS Tough  for automotive end use parts, manufacturing, snap-fit items, consumer goods, aerospace
ABS Hi-Impact for applications such as optics, medical, lighting, special effects, packaging
E-clear series for Water resistant Applications, Hearing devices
E-Shell 300 (clear) CE certified and Class IIa biocompatible, clear material
E-mould for Injection Molding (Validated for several materials of injection)
E-RigidForm  delivers good heat deflection and water resistant. It can be used wide range of industrial and consumer applications.
Loctite E-3843 for Custom eyewear legs, Connector, Prototype of automobile interior part
HTM140V2 for Applications that require thermal resistance and tools for small run injection molding (High Temperature Mold) Heat deflection temperature of 140°C
Loctite IND402 A70 HR Black, grey Ideal for consumer products, lattice structures for sportwear
Loctite IND406 HDT100 is ideal for tooling, interior and machinery parts
E-Polycarb is a very stiff, clear material
WIC 100 Series for the production of casting models for jewelry and other uses
Evonik ST6100L is very similar properties to Nylon with 30% fill of glass fiber
E-tough flex  for Tools, fixtures, abrasive environments, high tensile modulus